Learn how DNAnexus & AWS can help accelerate your multi-omics initiatives in the cloud.
The most common challenges we hear from the industry are:

The size and heterogeneity of multi-omics datasets makes them difficult to integrate and explore

Teams face high pressure to accelerate time-to-insight

Hidden costs associated with maintaining and supporting a bioinformatics system

Privacy & security are top concerns, but difficult to master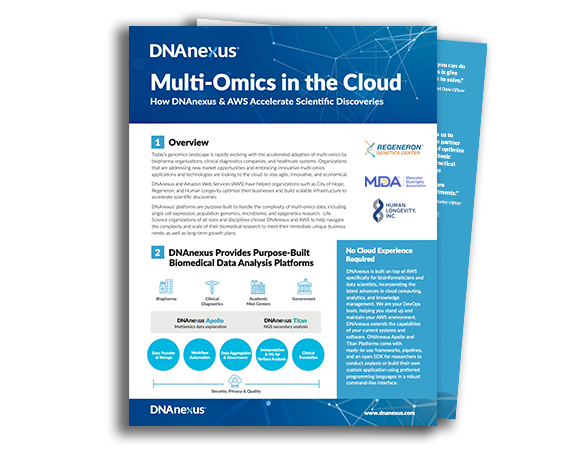 THIS WHITEPAPER INCLUDES STRATEGIES FOR:
Solving for dataset size & complexity

emocratizing data access & simplifying collaboration

Identifying hidden overhead & decreasing R&D costs

Safeguarding sensitive data & reducing compliance risk


DNAnexus Apollo is a cloud-based informatics environment that enhances pharmaceutical target discovery and drug development pipelines, through collaborative and secure multi-omics data exploration. Learn More.


DNAnexus Titan is a cloud-based informatics environment that eliminates bioinformatics bottlenecks by bringing data and pipelines together ine one place for streamlined analysis. Learn More.



DNAnexus is the trusted partner to Life Science, Healthcare, Government, and Academia in over 48 countries, and serves the world's top pharmaceutical companies and national research initiatives.