DNAnexus® for Translational Informatics

Leverage Multiomics to Advance Research
Integrating multiomics data is crucial in translational informatics. With DNAnexus, researchers can fuse molecular and phenotypic datasets to gain a comprehensive understanding of biological systems and facilitate the discovery of biomarkers, disease mechanisms, and personalized treatment strategies.

Accelerate Your Data Exploration Process
As translational informatics projects grapple with escalating data complexity and scale, teams need a solution to derive actionable insights from this wealth of information. DNAnexus provides tools for biologists to rapidly explore thousands of phenotype fields and millions of variants, and allows bioinformaticians to focus efforts on intricate analyses rather than data wrangling.

Tackle Complex Precision Health Data Challenges
DNAnexus is a powerful solution to streamline the transition from target identification to clinical development. By integrating data, providing modern tools, and enhancing compliance and collaboration, DNAnexus empowers translational informatics programs to achieve their goals with greater efficiency and effectiveness.
Driving Translational Informatics Forward

Scalability
DNAnexus revolutionizes translational informatics by eliminating challenges associated with dataset size and scope. With its robust infrastructure and versatile tools tailored to handle complex data types and large volumes, DNAnexus enables users to seamlessly upload and harmonize population-scale genomic, multi-omics, and clinical data for comprehensive analysis.







Global Collaboration
Inspire rapid feedback and collaboration within the translational informatics team by providing all essential resources in a secure, trusted environment. DNAnexus offers biologists the ability to perform precision research through a user-friendly web-based cohort browser, facilitating hypothesis generation and testing without the need for programming skills.

Cohort Analysis
Advance your translational informatics research by seamlessly querying genomic, multiomics, and phenotypic data to construct cohorts for in-depth analysis, facilitating the exploration of critical associations between genomic and linked clinical information. DNAnexus, designed with translational informatics in mind, is data model-agnostic, empowering researchers to investigate diverse structured and unstructured data types.

Visual Exploration
Query, analyze, and visualize massive datasets to reach insights faster. Explore thousands of phenotype fields and millions of variants within seconds using our interactive data visualization tools, including a cohort browser robust enough for UK Biobank data — a population-scale sequencing project of 500,000 individuals.

Security & Compliance
Protect your research by adopting the industry's most comprehensive security and privacy framework. Learn why the FDA, the UK Biobank, top pharmaceutical companies and others have trusted DNAnexus to support their global precision health programs.

A Trusted Partner
Speed time to value and innovate faster by extending your team with bioinformatics scientists and computational experts from the DNAnexus Professional Services. Get help migrating, optimizing, and developing new pipelines. Leverage the best of new and emerging techniques. Educate team members on best practices.
City of Hope and DNAnexus
Powering the Next Generation of Precision Oncology Research and Therapies
Learn how City of Hope partnered with DNAnexus to build the POSEIDON platform, enabling exploration, analysis and visualization of deidentified clinico-genomic data. Insights from POSEIDON inform drug development, spark new research ideas, improve clinical trial matching, provide critical decision support for tumor boards, and more.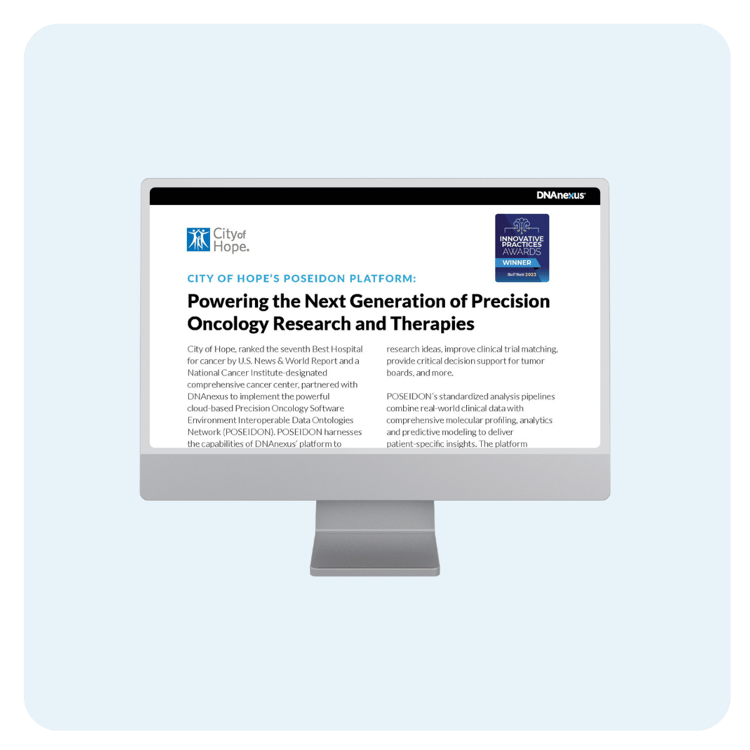 Accelerate Your Discovery
Discover how easy it is to explore complex clinico-genomic datasets in the cloud.